Machine Sazi Arak Co. (MSA) was founded in 1967 in an area of 134 hectares in Arak city in order to support the basic industries and meet the industrial needs of the country and was established as the first heavy industry in the country in 1971. This company with over half a century of experience in the field of industrial and infrastructure development of the country, its scientific, technical and specialized capabilities, enjoy about 2000 highly qualified and experienced specialists, advanced equipment and modern facilities in form of five different manufacturing groups, subsidiary companies and two support groups and an university of applied science and technology is the first and the largest industrial unit of the country, which is based on the development and universal management of the value network, including financing, engineering, procurement, construction, installation and commissioning processes and providing support services related to large industrial complexes, factories and equipment in the form of EPC or EPCF and providing reconstruction, modernization and industries overhaul. MSA has the ability to carry out major national and international projects and produces 77 different types of products in the following business areas:
Oil, Gas, Refining and Petrochemical Industries
Mineral and Steel Industries
Heating Facilities and Boilers
Alloy Casting and Forging
Renewable Power Plants and Energies
Bridge, Steel Structures and Port Facilities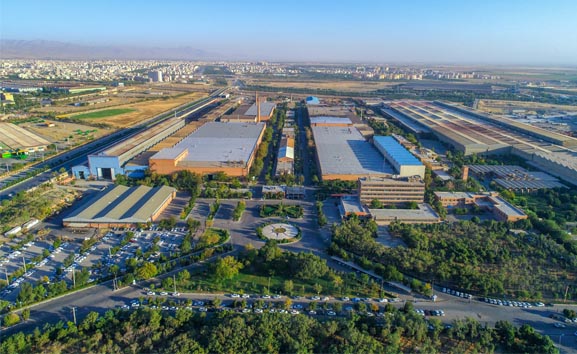 The company's main activities and products are:
General contracting and EPC projects, engineering, procurement, construction and commissioning of various storage tanks, mobile and fixed pressure vessels, distillation towers, heat exchangers, air coolers, spherical tanks, indirect heat exchangers, gas stations, mobile oil treating units, valves and wellhead equipment, drilling rigs, various process pumps for the oil and gas industry, cranes and hydro-mechanical equipment for dams, water tubes, fire tube and cycles combination steam boilers, bridges and heavy steel structures, all types of alloy steels, pressure flanges, industrial rings, , axle and railways tires, steel balls, heavy machining, industrial furnaces, machineries and plant equipment, cement factory equipment, wind power plants, incinerators and ship unloader equipment.
Getting the international certificate of quality system ISO 9001 for the first time in Iran by the DNV international company of Netherlands and use of credible international standards in the field of design and manufacturing of products, as well as obtaining quality certificates from reputable international inspection institutes caused our company has been exporting its products to various countries around the world.

The manufacturing groups and subsidiaries of MSA are as below:


Subsidiaries companies
1. MSA Engineering and construction Company
2. Paysaz Company
3. West Sun Trade Company (Germany)
4. Akam Oil and Gas Company
5. Noor-e-Gheshm Oil Facilities Company

Main office and factory: Sanaat Sqr., Arak, lran, P.O.Box:148, Postal Code: 3818997888,
Phone: +98-86-33130031-9 Fax: +98-8633133020
Tehran Office: No.4, 2nd Namdar, Isar St., Marzdaran Ave., Tehran, Phone: +98-21-44279775-6 Fax: +98-21-44275715
Email: info@msa.ir